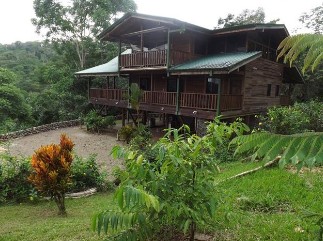 Casa Grande -- 3 bedroom, separate suite and room for 8 + Maybe a little less rustic is your style, or you're looking for space for a large family gathering. This is perfect! Casa Grande has a modern kitchen, huge wrap around porches, hammocks and ceiling fans, air conditioning (yes, for real!), television, 3 bedrooms including the master suite upstairs with a huge bathroom and shower. Even better, on the lower level there is a separate suite with bedroom, bathroom and kitchen. So 4 bedrooms total if you rent the whole house. Casa Grande has great views of the valley and ocean, good privacy and is quite upscale for Costa Rica. It's a short walk to the other cabinas, making it perfect for a family reunion gathering house. $1,750 per week up to 6 persons, $2,000 per week including the lower suite up to 8 persons
Full Description
:
Short Term starting at $65 per night. Discounted rates available for long term, email/ask agent.
A short drive up from Dominical, at aprox 600 feet in elevation, enjoy cooler temps, amazing wildlife and breathtaking views of the valley and ocean below. 180 acres of fantastic jungle, including over a dozen seasonal waterfalls, a lagoon, a wide variety of fruit trees, hiking trails, birding and more -- without even leaving the property!
They have several cabinas on the property, each private and unique. All immerse you right into the jungle! From a cozy one bedroom cabina boasting complete privacy and amazing views to a large, well-appointed 4 bedroom house, they offer quiet, rustic, comfortable accommodations perfect for families, couples or solo travelers. A week long rental includes a welcome basket of Costa Rican coffee, fresh fruit and other seasonal goodies!!! 3 night minimum. Feel free to use either of our two WiFi hot-spots on the property.
Cabina Lagunas -- sleeps 4 or more
This cabina is a birder's dream because it overlooks the seasonal lagoon. Even in the dry season there is a great deal of activity. One of the larger rentals we have, the bold colors and funky decor make this a great place to stay. A large porch wraps two sides of the cabina and includes the screened-in outdoor kitchen. There's a separate bathroom with hot water and a large tile shower. In the main area, a double bed and a double futon bed give open up ample room for more kids or adults per your request. Coconuts, bananas and limes are all in the yard. $65 per night or $390 per week.
Cabina Guanacaste -- sleeps 3
The Guanacaste is the national tree of Costa Rica and the largest on our property is just behind this cabina. With the most privacy of all the cabinas, Guanacaste is at the top of the driveway at the highest elevation. Enjoy great breezes, killer views and total tranquility. This cabina features a separate bedroom with a double bed and 3 walls of screening offering great jungle immersion! In the living area a twin size day bed can sleep one more and provides a comfy place to hang out during the day. Full kitchen with coffee maker and all dishes, shower with hot water, small covered porch and a great yard for watching wild-life. And that killer view! $75 per night or $450 per week.
Cabina Las Palmas -- sleeps 5
This is one of our favorite spots on the property! This cozy one bedroom has a semi-private bedroom with double bed and a loft above with a single bed. In the front a double bed futon can sleep 2 more. It's perfect for a couple or small family. Cook and eat in the outdoor kitchen while awesome breezes come through. And the view -- stunning! The valley is below and the ocean beyond. This place is one of the best spots for watching the morning fog come up through the valley and amazing stars at night. Full bathroom with on-demand propane powered hot water, great privacy and fruit trees along the path leading to the cabina. $75 per night or $450 per week.
Casa Grande -- 3 bedroom, separate suite and room for 8 +
Maybe a little less rustic is your style, or you're looking for space for a large family gathering. This is perfect! Casa Grande has a modern kitchen, huge wrap around porches, hammocks and ceiling fans, air conditioning (yes, for real!), television, 3 bedrooms including the master suite upstairs with a huge bathroom and shower. Even better, on the lower level there is a separate suite with bedroom, bathroom and kitchen. So 4 bedrooms total if you rent the whole house. Casa Grande has great views of the valley and ocean, good privacy and is quite upscale for Costa Rica. It's a short walk to the other cabinas, making it perfect for a family reunion gathering house. $1,750 per week up to 6 persons, $2,000 per week including the lower suite up to 8 persons
Nearest town
: Lagunas
Neighborhood
: Lagunas
Price
: $65
Beds
: 8
Baths
: 3
Floors
: 3
---
Luxury
: No
---
Tools
Printer Friendly Version of This Page
Email This Listing to a Friend
---
---
Agent Info
Listed by:
Administrator allside
|
Contact Agent
| |